What a spectacular start to 16!
Working at the Pendulum Summit was the perfect way to kick off 2016. Firstly it is THE ultimate Corporate Event of the Year, attended by 3500 Corporate delegates, and we had the pleasure of working with the Premium Delegates along with the Event Speakers.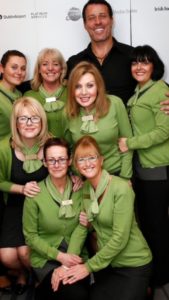 This year it had the fantastic added bonus of a five hour Master class with Tony Robbins. Watching how he got The toughest audience on-board was indeed a master at work. With our group of "green girls" having been trained in most of the techniques that Tony shared, we embraced the day at an even higher level. To observe how he created the high vibrational energy, managed and maintained it for five hours with such a large group was truly inspirational. Meeting with him just put the icing on the cake for all of us. He has a four day training coming up in London this April, if any of you are interested I will be happy to pass on the details to you.
Back at our Holistic Centre of Excellence, we have set the dates for the following courses:
Yoga Thur 6-9pm 21st Jan for 5 weeks All welcome
Understanding Self-Harm 1st March 9.30-5pm Open to therapists
Chakra Matrix 8th March 9.30-12.30 All welcome
Sound Therapy 8th March 2-5pm All welcome
Intro to Homeopathy 15th March 9.30-12.30 All welcome
Menopause/Herbal Remedies 15th March 2-5pm All welcome
The Truth About Cancer 5th April 9.30-5pm All welcome
Intro to Bodytalk 7th April 6-9pm All welcome
Hot Stone Massage 12th April 9.30-5pm Open to therapists
Special Children 21st April 6-9pm All welcome
Shirodhara 26th April 9.30-5pm Open to therapists
Intro to NLP 28th April 6-9pm All welcome
Meanwhile in the bigger picture, things are really ramping up. As more institutions are being disclosed for lack of integrity, there is no coincidence that so many of the ancient prophecies, philosophies, astronomers, and mystics predicted that this would happen at this time. It is one thing to have a vague concept of this philosophies, but to be able to witness it unfold in real time is incredibly exciting.
For example- in Ireland this month we had the documentary about the debilitating side-effects of the HPV Gardasil Vaccine-which have now been released by the families of victims.
There is a fantastic article by Foster Gamble (of Proctor & Gamble),
titled "Who is Killing the Healers and Why?" which details the deaths of 13 Holistic Doctors between June 19th and Oct 29th of 2015- all in very suspicious circumstances.
Foster Gamble created the wonderful documentary Thrive- which explains how and why our world operates the way it currently does. Thrive is available free to download at the moment-for more details visit my facebook page-Anna Gibson Steel.
While the drastic changes in our world are causing a rapid increase in fear and stress for individuals, the good news is that you do not have to suffer. There has been a dramatic rise in the amount of clients presenting with anxiety, and this is no surprise considering the changes we are all going through. One session is usually enough to get this under control, and then we teach techniques that empower individuals so they can protect themselves from absorbing this fear. The beauty of this approach is that once you learn to master your internal state, external factors simply do not impact you in the same way, and YOU get to choose your response.
Please do not hesitate to ask for any further information about any of the topics here, as always it is my duty, and absolute joy to assist, I so LOOOVe my work!