Whew- Let Me Take a Breath!
We are definitely moving into a new phase of awareness about all matters Health related. Demand has never been as high, for a Healthcare system that is based on Health and not sickness. We are thrilled to be able share this information this month at two public events.
Monday 23rd March 2-5pm at Downtown LIT Limerick, I will be delivering a free lecture – Learning to Live Positively, and there will be a team of our highly specialised therapists and teachers donating free treatments to the public, as part of Limerick Lifelong Learning Festival. All are welcome, but come early if you would like a treatment to avoid disappointment.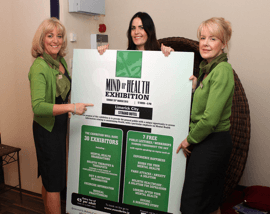 Mind ur Health Exhibition is back again due to demand after the great success of last year's event. Sunday 29th March 12-6pm at the Strand Hotel Limerick. We will have 30 Exhibitors from a complete range of Healthcare services, from HSE, Medical Practitioners, Mental Health Organisations, Holistic Therapists, Diet/Nutrition and Fitness. We are blessed with a superb line up of International speakers who will deliver free lectures throughout the day-on the following topics;
Looking After Your Mental Health
Experience Relief from Burdens & Stress
Role of Hormones in Mental Health
Solving Panic/Anxiety Attacks
Depression- A Spiritual Illness?
This event is suitable for anyone who would simply like to experience more Happiness and Joy in their daily lives, all the way up the scale to sufferers of long term stress illness.
Entry is €5 to book a ticket go to www.eventbrite.ie/mindurhealth further details on FB Mind ur Health exhibition
Our next Holistic Centre of Excellence Open Morning will take place
Thur 16th April 10.30-12.30 at our college on the grounds of Glenstal Abbey, you are welcome to join us for an informative introduction to our work. If you would like to attend and get a taste of our hospitality please rsvp to
I hope you like the new layout of my website www.annagibsonsteel.com, to those of you that know me, you will appreciate how much I enjoyed doing it!!!!! Thank God for the blessing of my wonderful web designer.
For my international clients using the Panic Attack Solution, I look forward to being with you again soon, on the next webinar.
I am thrilled to facilitate and witness the recent surge in Reiki, of all the trainings that I have taken over the years it is still the ONLY therapy that allows me to take of my energy field for myself. For those of you who have taken Reiki 1, if you are using it daily, you will be experiencing the remarkable benefits of it, for those who have 'fallen off the wagon', please, please, just start using it again-Today! A happier, more energised, healthier version of you is just begging to be manifested! If any of you need a little help to get back on track, I am more than willing to help. For those who haven't yet experienced it, I can't recommend it highly enough. If I had to make a choice to only keep one of my trainings, it would without hesitation be Reiki.
Im looooving the fast paced buzz around my work at the moment, it truly is a revolutionary time.
Till next time,
Wishing you love, light and laughter.
Anna