NOW- Is THE Time to Fulfill your Life Purpose
Have you noticed how you are being nudged or indeed strongly pushed to ask this question of yourself recently?  That is because the time has arrived for all of us to get consciously on our "souls journey". Do you find yourself asking "what's it all about?", "surely there is more to life…" "is this what I was meant to do every day?"  …………….
If you are asking these questions then you know that you are not on the correct path, and some adjustments are required.
Yes, change is scary!  But I can assure you the rewards of living a purposeful life are beyond measure.
It is so exciting to witness this "waking up", and indeed to be in a position to facilitate this change process for so many people.  In my opinion this dilemma is THE major contributing factor for the rise in the sufferers of anxiety/panic attack/stress that I work with in my clinic every day, or via my online program. The fact that the on-line progam is currently in use in over 70 countries is a global indicator of this pandemic!
Indeed a large proportion of the private clients who present at my clinic, are very often "closet healers", and it is a dream come through to be able to assist some of them in embracing their true calling, via the only Holistic Centre of Excellence in Ireland.
If you are finding yourself struggling at the moment, please do not hesitate to get in touch-it is my Life's Purpose to help!
Back to School- Wed 27th Sept is our return date, and we are delighted to announce that our training will run on consecutive days ( Wed & Thur) this year, which will facilitate our students who have to travel to Murroe to join us.  We are the only college in Ireland offering the unique Holistic Therapist Diploma, covering 12 qualifications and over 30 introduction courses in one year.  We are able to deliver this intensive program by maintaining small classes taught by very passionate and dedicated tutors.  For those who want to delve further, we also offer the Holistic Therapy Teacher Training Program.  Numbers are limited so please do get in touch as soon as possible to avoid disappointment.
For full listing visit www.hcoe.ie
This is a sample of some of our courses. Most modules can also be taken as part-time courses-again contact us for info- info@hoce.ie
Anatomy & Physiology– Wed 6-9pm
Reflexology   Thur 6-9pm
Holistic Massage Thursdays 3hr
Diet & Nutrition-Introduction x Thurs x 6 weeks
ICNM BARCELONA– thanks to all of you who sent your good wishes to me for this international conference in July.  It was a tremendous success, and such a privilege to present to 600 Doctors and Professors.  The feedback from delegates was a welcome endorsement of our work.  Indeed it was with pride that I was able to share our work at the Holistic Centre of Excellence to an International Audience, their re-enforcement of our uniqueness in the market, and strong interest, was a delight to receive.  Yet, again it proved that our Profession is rising in recognition for it's extremely valuable contribution to a new Healthcare system, based in wellness.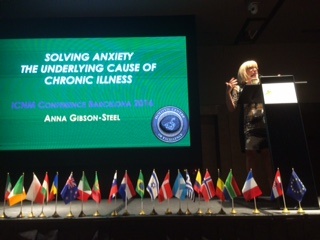 The tide is turning, and I would urge any of you who have been toying with the idea of working in this field to take action now.  It is THE most empowering career- what other profession, needs no set location, no power supply, no tools, yet allows one to set their own work routine, AND you get to help others improve their lives as a direct result? As a therapist, I can show up anywhere, deliver a treatment without equipment, create my own work routine, facilitate personal growth for anyone, AND I get paid for it!!!!!  That is my definition of fulfilling a life's purpose!
Did you get that- I LOOOOVE my work.
Till next time,  wishing you every success in fulfilling your dreams, Anna